The 13 Laws To Grow Your Business Using Influencers
Updated August 25, 2017
Are you working with influencers yet?  
It's been around for a while, but only in the last couple of years has it really started to catch on.
I could bore you with a bunch of statistics about its growth but the only one that really matters is — money.
Recently Inc. Magazine reported that influencer marketing is about to "go through the roof" because brands are pouring so much money into it.
If that isn't enough to catch your eye, take a look at what eMarketer reported: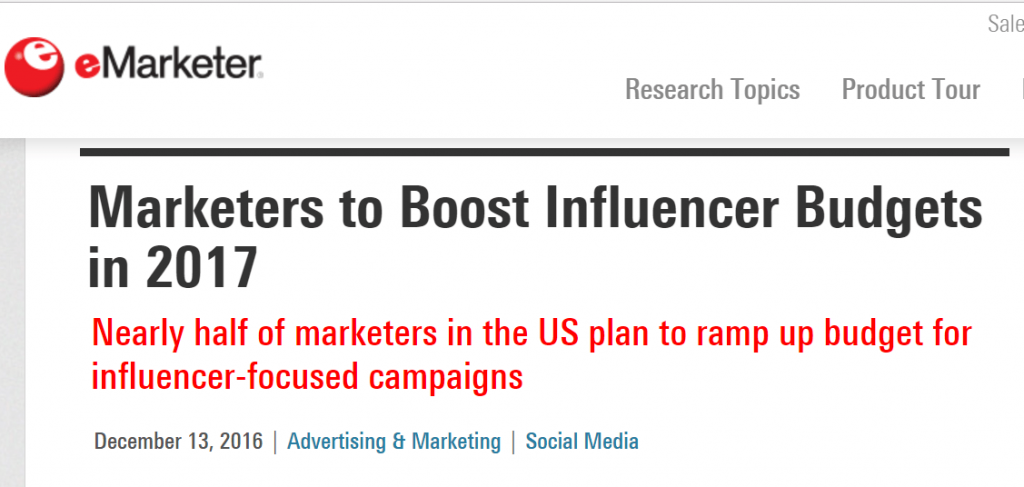 Note the part where "nearly half of marketers in the USA plan to ramp up" their budgets for influencer campaigns in 2017.
But why influencers and not some other strategy?
For starters they have their own audiences, create their own content and engage consumers in a way that most businesses can only dream about.
They also enjoy more trust.
Brands, on the other hand are generally distrusted by consumers – which explains why they want to use influencers.
Makes sense. Work through credible people who have access to the consumers you want to reach.
But what do you need to know?
Like anything else, to be successful requires a method.
These 13 laws give you that method.
I developed it by working with a number of clients, including Fortune 500 companies, along the way.
With this method, you can establish a solid foundation now that will serve you well into the future.
Let's get started…
#1: Play the "Long Game"
I'd be a  liar if I told you working with influencers was as easy as flipping on a light switch.
It's not. 
As I've written before, it takes effort to work with influencers – at least correctly.
By correctly, I mean you need to think long term and play the long game.
Your aim should be to build bridges with influencers because that facilitates establishing relationships.
Think friendships.
Hardly anyone says "He's my best friend" after just meeting someone.
We always know that friendships must be built over time.
Plant this thought into your brain here and now.
#2: Burn the Ships! Put a Stake in the Ground
When the Roman general Julius Caesar landed his army on the shores of England, he ordered the ships burnt.  
His goal was clear: Win or die.
Now I'm not suggesting you burn your ships and go all or nothing! But you do have to to know your goal and stick to it.
You have to put a stake in the ground and not just dip your toes in the water.
Setting your goal from the start is imperative to the success of any marketing plan.  You MUST know what your objective is before you do anything else.
Don't worry about the specifics, we'll get into that later.  For now, I want you to think generally and broadly.
And, whatever you do, write it down! When you write down your goals you make yourself accountable.
Here are some examples of high level goals:
Boost awareness of your brand or product.

Build trust and authority for your brand, your products & services.

Drive consideration for your product or service to your ideal customers.

Drive traffic to your website or landing page to build your email list.
Your business may be in the early stages of development so driving awareness and building some trust may be your first priority.
Or, your business may be mature but the competitors are eating your lunch so you need to edge them out.
Your goal should reflect your business need.
#3: Have a Road Map and Mark Milestones
Set your strategy for your campaign carefully:  
Know your budget!

Be sure to know the duration of the campaign with start and end dates.

Know how many influencers you want included in your campaign and why.
Do you want them to trickle out content or publish all at once?  Know the timing.
Which social channels do you want emphasized, or maybe it doesn't matter?
Next up, determine your KPIs (key performance indicators):
Don't gloss over this: Ensure your KPIs  are in line with your goals and strategy.  Be sure to strike a balance between being aggressive while being achievable.
Example KPIs include:
# of in-depth, long form blog posts about your product or service.

# of videos published about your product with a minimum number of views by a certain date.

# of brand impressions generated by your campaign.

# of direct click-throughs to designated web page or website.

# of original photos of product published.

# of engagements (social likes, shares, comments).
These should act as a metric to measure your success.
Remember that long form content like blog posts and videos is searchable online for years after its published.
This is one of the reasons I love working with those who produce it.
However if you are working with Snapchat or Instagram influencers, you'll have to adjust your KPIs accordingly.
#4: The Law of Category: Know Who and What You Want
Keep it simple. Categorize your influencers using only a few buckets.
Here are my main categories:
Authorities: these folks are frequent speakers, usually publish books and can be sometimes be hired as a consultant.  They are often considered to be leaders in their industries. Think Tim Ferriss (although some may say he's a celebrity in his niche) or Robert Scoble in the technology space.
Social media influencers or micro influencers: independent, third party bloggers who are not paid by a media outlet to publish. Very often they blog and post because they love to write about their work, share knowledge and help others. They are often authorities in the niche in which they operate and wield influence there.  They also tend to be well connected with other influencers in their niche. Just make sure he/she is not overly biased toward a competing brand before you reach out.
Celebrities: Are just that … big names in their field. Often these are Hollywood types.  They can be very difficult to reach and may use an agent to handle their interaction with those looking to leverage their influence.  Note these folks normally charge a lot of money.
Note that I don't include journalists here as they are a different breed of influencer altogether because of how they operate.
#5: Fingerprint File: How to ID Influencers
New influencers are popping up every day so there is no shortage to choose from.
To make it easier to choose good candidates, ask these questions:
Do they regularly cover topics that are relevant and important to your business?

Is their audience similar to yours or the one you want to reach … gender, age range, socio-economic, interests?

Do you want those who focus their activity to a single social platform (Instagram, Twitter, YouTube, etc.)?

What is the approximate blog/site readership (reach) and overall social audience?

How often do they publish content?  Is it on a regular basis?

Does they write quality, in-depth content (if its long form)?

How engaged is their audience?
#6: Know Where to Dig to Find Gold
You need to know that finding and assessing qualified candidates takes an investment of time.
You want to be sure you are selecting the ones that are congruent with your brand and product (more on that below).
There are many ways to go about this, but you should be aware that Fourstarzz , a new online tool, makes the process easier.
With a few clicks you can select influencers based on niche, platform, language and more.
You even get an ROI prediction for your planned campaign.
If you don't have any budget to afford an online tool, that's okay too.
If you fall into this category, your in luck. The bad news it takes more time and effort to make it work.
Here are a few free online tools to get you started:
Here's a tip to using Alltop:
If a blog in the list is "industry recognized", and has a good social following, then you will be able to track down the details of the writers that are involved, and reach out to them.
Gives you the opportunity to track down social media influencers for a particular topic. You can search for influential social media profiles based on the results of a single keyword or phrase.  
It also works by breaking down the influence a particular author has: number of followers, domain authority, and the regularity with which their posts are retweeted.  It also displays which social platforms their content gets shared the most.

For all of its faults, Twitter remains a good place to locate influencers.
FollowerWonk has a feature called "Search Twitter Bios" – which allows you to type in keywords to locate candidates.
The list you receive will be ranked by the social authority of those candidates and their number of followers. It also provides a number of interesting stats about that person which you can find helpful in selecting them.

Provides a starting point to assess a person's influence by providing a score, but don't put too much emphasis on that.  
Remember, not every influencer listed by these tools is worth reaching out to!  
Know what you are looking for. Be discriminating.

#7: Look for Harmony
Look, I understand that assessing people to consider isn't easy.
To make it a little easier, these are the points you need to consider more than anything else…
Hint: Size of audience is NOT it.
Instead, spend your time looking at these:
Congruency: Is the influencer's content congruent with your business, your brand?  Is there a natural fit?  Do they make sense together?
Relevance: Is the influencer relevant to your target consumer? Is the influencer's audience comprised of your ideal consumers? If not, keep searching.
In other words, is the influencer and their content in harmony with you, your brand, your products?
You see:
Large audiences are no guarantee of engagement.
The chart below illustrates the engagement rate versus size of audience on Instagram: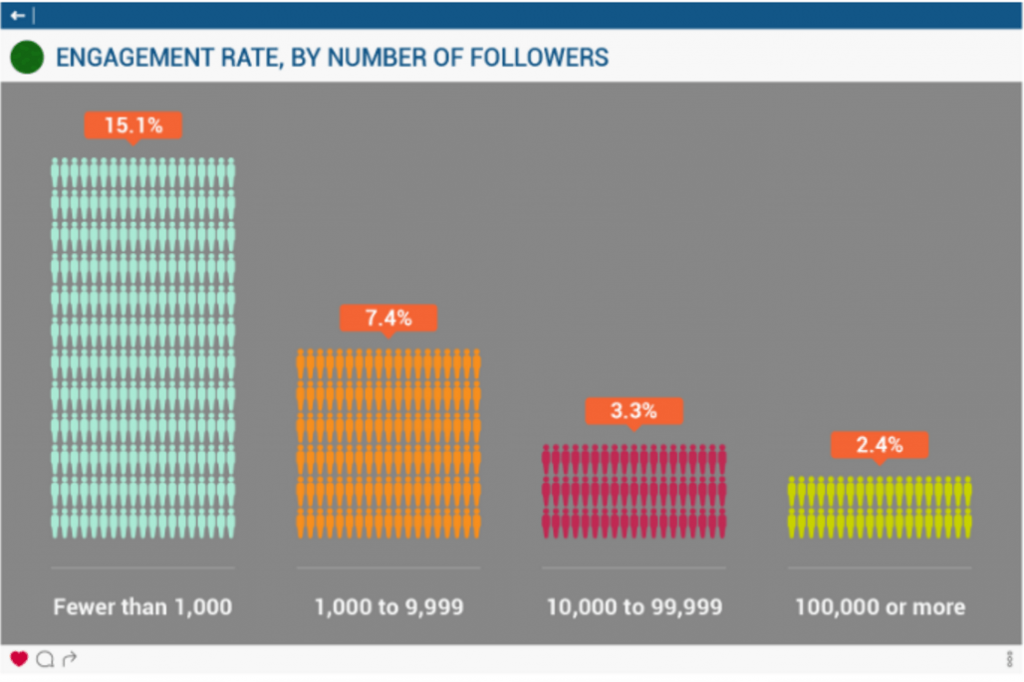 The influencers with smaller audiences have a higher engagement rate.  If this is true with Instagram, it's likely true elsewhere so don't be swayed by large audience numbers.  The infuencers right for your business are likely small and focused.
Now, one more thing:
Once  you've connected with some influencers you believe to be a good fit, reach out and ask them if they can recommend other influencers.  Be sure to ask them if it's okay to use them as a reference.  Much of the time they'll say yes if you ask nicely.

#8: Exchange Value
Working with influencers is about a value exchange.
If you are going to ask the influencer to review and evaluate your product, sometimes it is enough to offer a valuable computer device or an expensive article of clothing or fashion accessory.
Some make known what they charge monetarily up front.
But others, like Andru Edwards might be more flexible.  You'll have to contact him directly.
Ask if they require some other form of compensation … it could be trade of some kind.  Either way, it may not be as much as you imagine.
Whatever you decide, don't try to trick them into reviewing your cheap product but don't throw money at them either — as this executive did.
Now:
Let's take a look at some ways to work together:
Invite them to a virtual briefing about your product or service to learn more about your business, product or service.

Ask them to review your product or service.

Invite them to attend an event to cover your company/brand.

Co-produce & publish content with them that you can both use and co-market.
Each of these can get high quality content created about your business.
Note: According to ZDNet, 87% of "micro bloggers" charge under $500 to write branded blog posts.  Keep in mind these are not celebrity influencers and have engaged audiences of their own.
#9: The Law of Reciprocity
The feeling of obligation is a powerful one.
So, once you identify some influencers, make an effort to read and review their content.  
Know what topics they cover, post and care about.  But go the extra mile and use the law of reciprocity to your advantage and do something for them before contacting them.  
In my experience, this gets noticed. Here some ways to get started:
Share their content on LinkedIn, Facebook, Twitter, or any other place where you think it will help evangelize it.  

Don't just share any of their content, but instead, only those pieces that you care about

. Be authentic and honest.

If you have access to your company blog, be sure to mention them there with a dofollow link back to their blog if appropriate.  Link juice helps their SEO.
#10: Cultivate the Art of Conversation

There is an art to reaching out to make contact with people you don't know and it's not cooomplicated.  Here are the critical elements when crafting an email that gets a response (yes, email is usually the best channel to use):

DO NOT

send a blast email.  Be sure to craft each email individually and personalize it!

DO NOT

use a template.  It is cheesy and shows that you didn't want to put any effort into the outreach.

Be sure to reference their content (this demonstrates you've read it, know what they write about and care about it enough to reference it).

Ask a question about their stance on something (demonstrates you read and

care

about their opinion).

Be direct and tell them what you want them to do: review a product, get briefed about your service, invite them to an event, collaborate on a piece of content, etc.

Give them an out

: Let them know it's okay if they don't want to participate, but be sure to ask if they have another influencer in mind who might. You never know!

Don't hide behind corporate/marketing lingo.  Yuck! Write plainly and directly.  Be authentic. Be honest. Show them who you are.  Demonstrate you're not a marketing meat puppet.
#11: Promote, Promote, Promote!
Let's be honest, everyone likes to be promoted … so do these things:
If you have a blog or access to a company blog, post about the influencers you're working with.  List their blogs with "dofollow" links, the boost in SEO will be appreciated.

Call out any blog posts, videos, photos the influencers generate about you, your brand, your product/service by Tweeting, linking to it in your blog posts, LinkedIn posts, Facebook and whatever other social platforms make sense.

Post quotes by the influencers on your product pages or pages of your marketing funnel.

Create a

sizzle video like a client of mine did

and post on your website.  Also, edit it into smaller bite sizes and incorporate into your online video advertising.

Get creative and squeeze every ounce from the influencer content!  This is the gold you've been mining!
#12: Kill Off this Old Stereotype
Some people still believe bloggers and other influencers are do-nothings who hide in their basements.
Nothing could be further from the truth.
Most influencers are busy people with careers, so be respectful of their time.
You'll benefit by treating them this way, trust me.
And, remember…
Know what you want before you contact them and know what you are willing to give in return.

Don't expect influencers to promote your brand, product or service for nothing.  
There must be a benefit to them: a sponsorship, a free product to use and review or an arrangement to co-promote content you both agree to create.
Don't forget the value exchange!
#13: Practice Good Karma!
Influencers are busy people too!
A word of thanks goes a long way!  Thank them for working with you, for posting great content and referring you to others.
Don't discount it.

The heart of influence marketing is building relationships with people you can work with for a long time to come.  Be sure to correspond with them, stay in touch once your initial campaign is ended.
Building bridges is what it's all about.